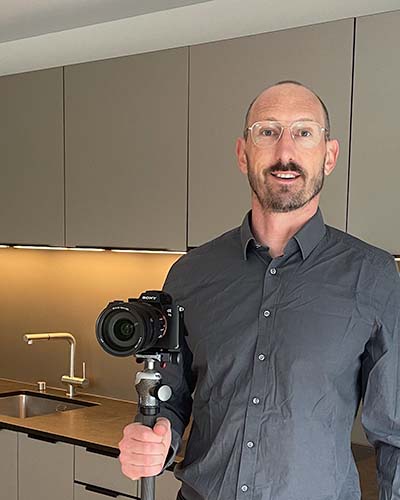 Über Mich
Ich arbeite seit 2003 als freischaffender Architektur- und Immobilienfotograf. Seit meinem Bachelor in Fotografie, den ich von der Universität "Art Institute of Boston at Lesley University" in Boston, USA, erhalten habe, widme ich mich hauptsächlich der Architektur- und Immobilienfotografie. Meine Kunden sind Kleinunternehmen und Großkonzerne, Architekten, Immobilienmakler oder Privatpersonen. Ich freue mich, mit Ihnen zusammenzuarbeiten.
Referenzen
Immobilienagenturen, Projektentwickler, Immobilienmakler & Bauunternehmen
Engel & Völkers, Ziegert Everestate Immobilien, Herbert & Kohlmeyer, Come Home Berlin, coming home GmbH, Balic, Dahler & Company Berlin, Heidi Buttgereit Immobilien, von Poll Immobilien, CENTURY 21 Berlin City Immobilien, WvM, Immobilien Invest Marketing, D.i.i., TCC Baumanagement GmbH, PANDION, Pellettieri Immobilien, Eckart Immobilien, HOME TO HOME, Deutsche Wohnen, von Poll Immobilien, Project Opp-2-Property III S.à r.l., INCEPT GmbH, Navigo Capital BCA GmbH & Co KG, AVILA Management & Consulting AG, ProImmobilia Verwaltungsgesellschaft für Haus- und Grundbesitz mbH, Assoziation Bankum, Braunlin Kolb Schalicke ArchitektenIngenieure GmbH, HECK Wall Systems, Lighthouse Immobilien Hamburg, WINEGG Realitäten GmbH, Werhahn, STADT UND LAND, HOME IMMOBILIENVERMITTLUNG
Hotellerie & Gastgewerbe
OH-Berlin, Mowitania, GreatStay GmbH, Plau Lagoons, Resort U Fořta , Coming Home, Hotel Schlehdorn, Schwarzenbach Ferienwohnungen
Architektur Büros
Wolff Architekten, Kyu Sung Woo Architects, Raumdeuter, AVILA Management & Consulting AG, mann Objecta, LoftMobile, Adela Bravo Sauras
Agenturen
offenblende, KODAKIT, Agency V, Meero, Snapwire, OOSHOT, hausfotografie.de
Kunst Ausstellungsräume
Autocenter, Center, enBlanco, Gallerie KSR, Horton Berlin, KM Temporär, KWADRAT, Meyer Riegger, Nature Morte, PM Gallery, SVIT, Institut Français Berlin
Publikationen
Reimer Mann Verlag, Weekly Dig, XLR8R Magazine, FADER Magazine, CREAM Magazine, New England Home Magazine, SugarHigh
Impressum
Ivo Gretener Fotografie
Jubiläumsstrasse 54
3005 Bern
Tel: +41 76 240 64 72
Email: ivo@immobilien-fotograf.ch
Die Inhalte meiner Seiten wurden mit größter Sorgfalt erstellt. Für die Richtigkeit, Vollständigkeit und Aktualität der Inhalte kann ich jedoch keine Gewähr übernehmen. Verpflichtungen zur Entfernung oder Sperrung der Nutzung von Informationen nach den allgemeinen Gesetzen bleiben hiervon unberührt. Eine diesbezügliche Haftung ist jedoch erst ab dem Zeitpunkt der Kenntnis einer konkreten Rechtsverletzung möglich. Bei Bekanntwerden von entsprechenden Rechtsverletzungen werde ich diese Inhalte umgehend entfernen.